Set your child up for a lifetime of joyful learning, success and happiness.
Come and Discover the CMS Playroom. Cameragal Montessori Infant and Toddler environment is created specifically to support each stage of the child's development. Our beautifully prepared environment is a neat, orderly, and intimate space that focuses on the development of movement and the refinement of language. It lays the foundation for life as the first three years of life are the most fundamental for children and their potential.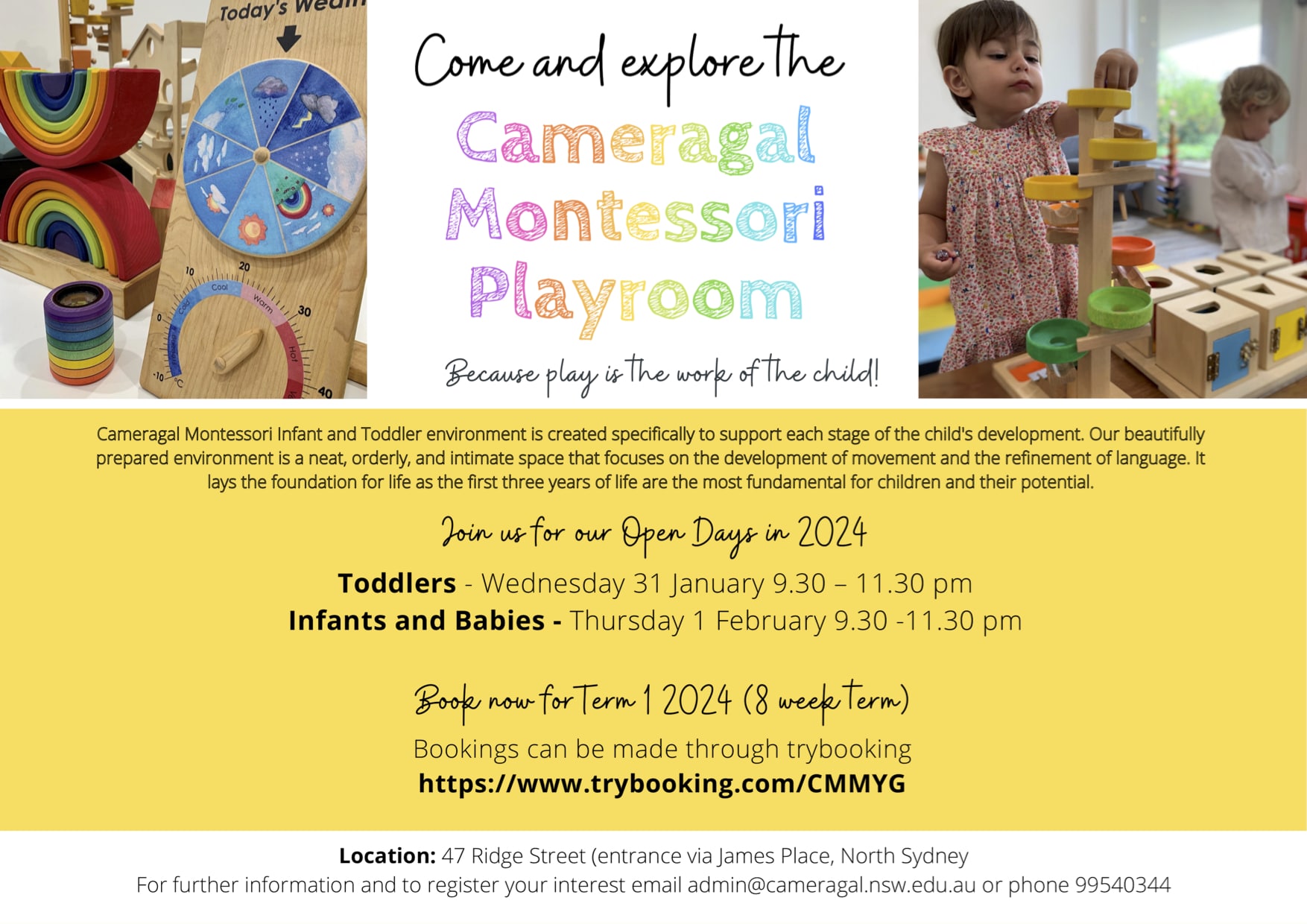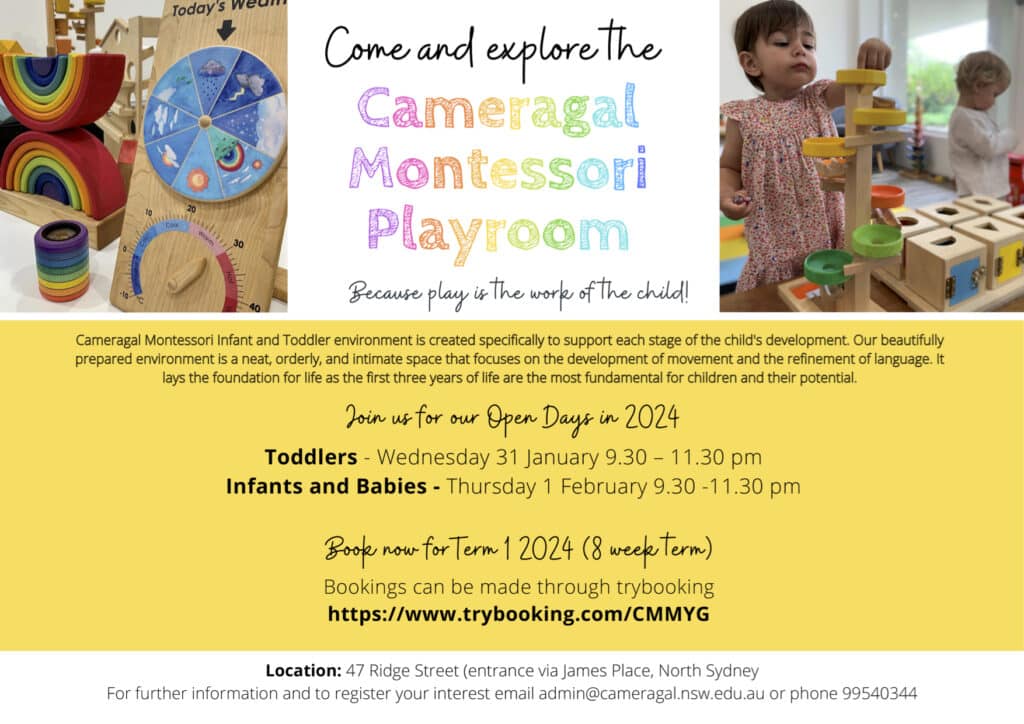 Term 1 Open Day
For any new families, we invite you to our free open days in our CMS Ridge Street Playroom (47 Ridge Street, North Sydney)
Toddlers – Wednesday 31 January 9.30 – 11.30 pm
Infants and Babies – Thursday 1 February 9.30 -11.30 pm
Cameragal Montessori Playroom
Term 1 2024 Booking Information
Classes will commence on Friday 2 February – Thursday 28 March (This is due to Good Friday falling on Friday 29 March)
Please follow the links below to book your class through Trybooking.
https://www.trybooking.com/CMMYG
CMS Playroom Schedule Term 4 2023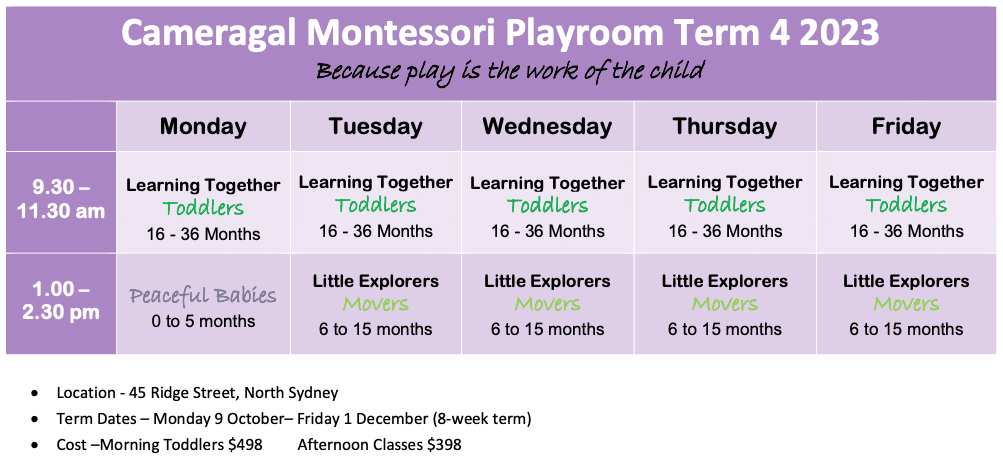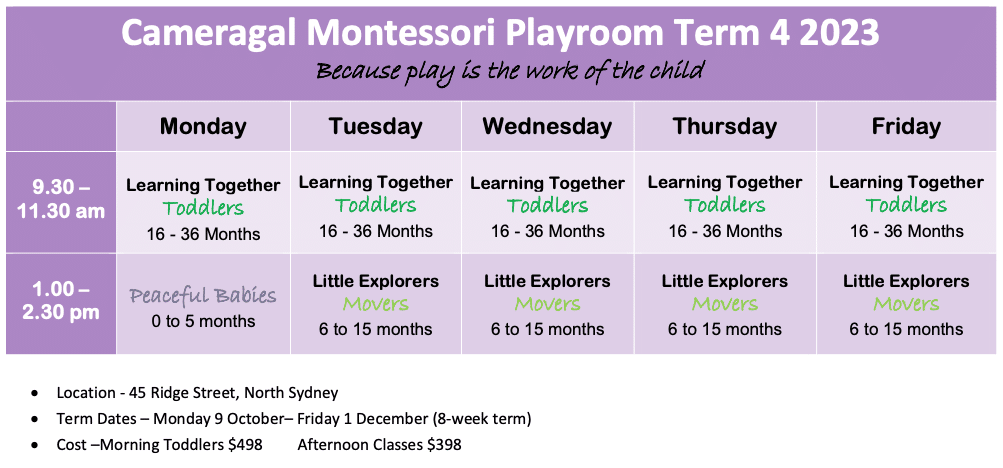 The Playroom (0-3 Toddler Playgroup)
"It is interesting to notice that where life is simple and natural and where the children participate in the adult's life, they are calm and happy. " Dr Maria Montessori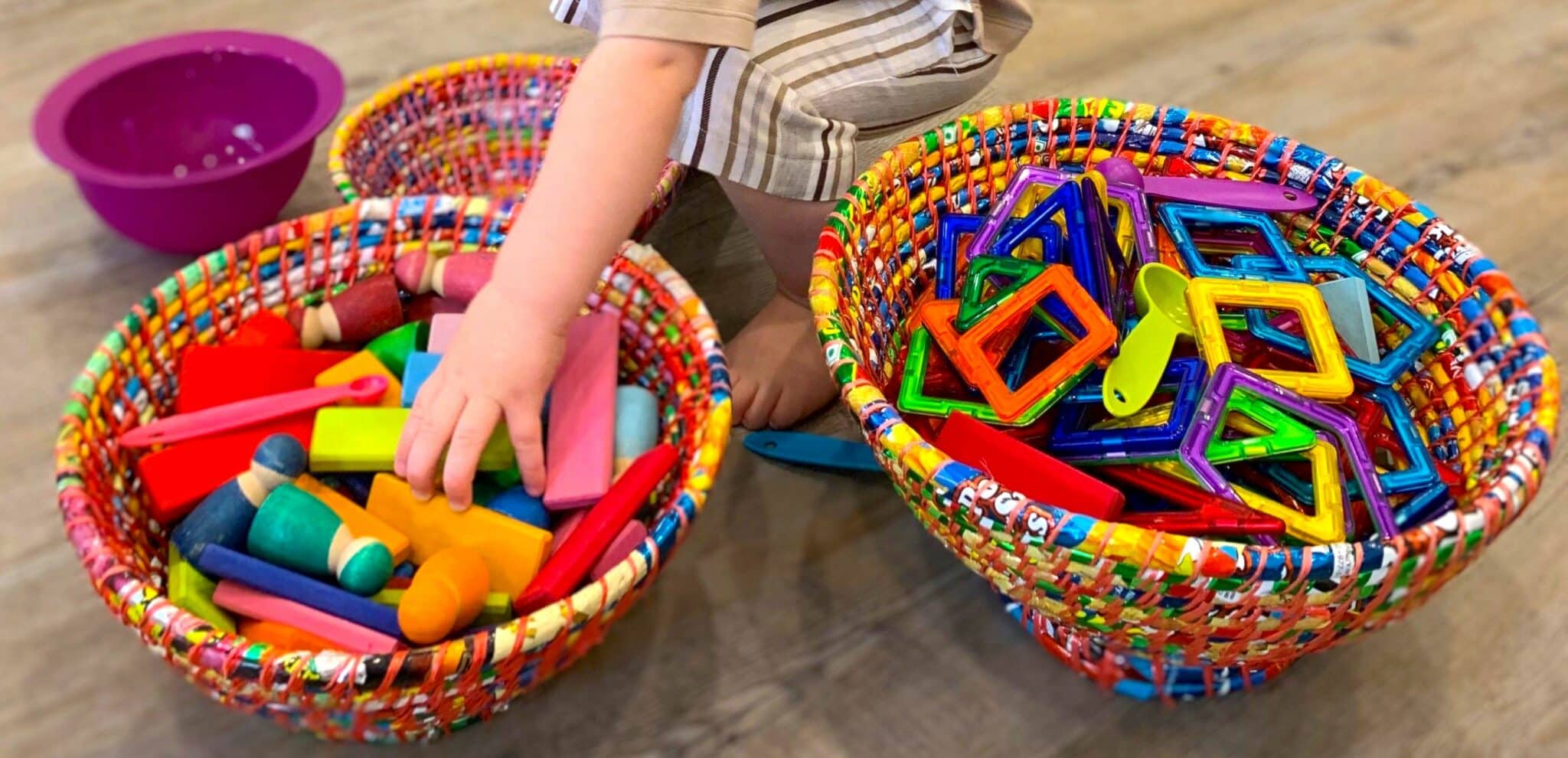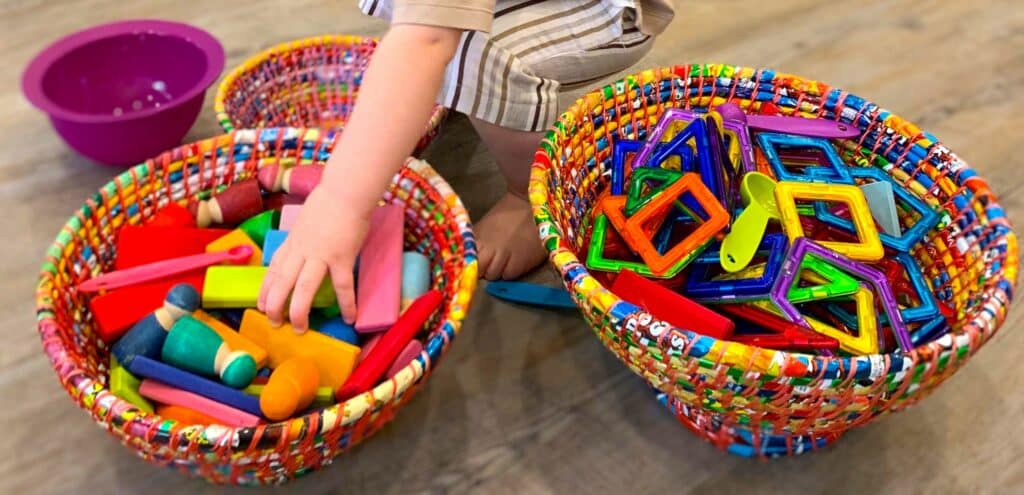 Our tailored early education program supports your child to positively explore their movement, speech, focus, independence and confidence so they develop a love of learning and grow to their full potential.
Three years that shape a lifetime.
In the first three years of life your child's brain develops more than at any other time, setting lifelong cell connections that help determine future behaviours, attitudes and capabilities.
As the only registered Montessori school in the lower north shore, our focus is on nurturing positive interactions between your child, their teachers, and classmates during these formative years to set connections that develop empathetic, confident and curious lifelong learners.
How we give your child a special start in life…
Making the most of early learning opportunities is key to supporting your child's development. As a parent, there are many options available to you – but not all deliver the same results. Our Montessori program differs from traditional day care methods in three key ways:
Small groups. All classes contain under 10 children, facilitated by a qualified and experienced Montessori teacher who has the time and space to give your child the focus they deserve
Tailored learning. Each child chooses from activities tailored to meet their individual development pace and needs, which are monitored and regularly optimised by their teachers
Focused activities. We use fascinating and beautiful materials as the basis for activities that build independence, emotional intelligence, confidence and resilience as your child attempts and masters new things.
Learn more about Montessori philosophy here.
…and future schooling.
Our Playroom program prepares your child for optimum learning in pre-school and primary school. Not only will they feel at home with us, but they will also become familiar with Montessori principles and have learned vital skills including:
Confidence to explore, investigate, and try new things
Focus to listen to and follow age-appropriate instructions
Independence to play and learn on their own
Resilience to persist, even with new or challenging activities
Emotional intelligence to analyse and adjust to their environment
Toilet training to understand the importance of personal care
Communication to interact positively with the world around them
Fine motor skills to develop physically
A Beautiful Environment for Fun and Learning
Our carefully designed playroom contains a number of magical spaces for children to explore and immerse themselves in educational activities and creative learning.
Peaceful Babies – Birth to 6 months
Our beautifully prepared environment is an intimate space that focuses on all the developmental needs of your child.
Our experienced 0-3 trained Montessori educator will support you to understand your baby's development through the first 6 months of their life.
Discussions led by our educator during each session will focus on a range of infant development and parenting topics.
Little Explorers – Infant Program 6 to 16 months
The bright, engaging environment is designed to ignite your child's natural curiosity, encouraging freedom of movement and uninterrupted play to build fine motor skills and develop self-confidence through achievement. You'll spend time watching your child have fun and grow, in the company of other parents who share your passion for learning and desire to be the best parent they can be.
Toddlers – 17 to 36 months
Our toddler space is divided into 5 dedicated learning areas, each one filled with fun activities to stimulate learning and development in different areas:
Language to develop vocabulary through naming and classifying objects.
Practical life to learn to care for themselves and the environment through everyday actions like cooking, sweeping and dressing.
Music and movement to develop listening, rhythm, communication skills and more through singing, dancing, and playing musical instruments.
Fine motor to develop fine motor skills and hand-eye coordination through pasta making, sorting, and other intentional activities.
Art and craft to develop creativity and expression through painting, drawing, pasting, and cutting.
Our education in action.
We believe every interaction is a growth opportunity. At Cameragal our teachers don't merely watch over your children, they also use hundreds of intentional activities to encourage them to explore their world and develop new skills. For example:
Building a tower hones focus, attention span, fine motor skills, resilience, patience and perseverance. Knocking that same tower down develops listening skills, fine motor skills and self-confidence.
Listening to a story, or just looking at the pictures, develops vocalisation and speech, recognition of sounds, colours, shapes and animals, and awareness of the world. Turning the pages in that same book develops fine motor skills, curiosity, independence, self-regulation, and self-esteem.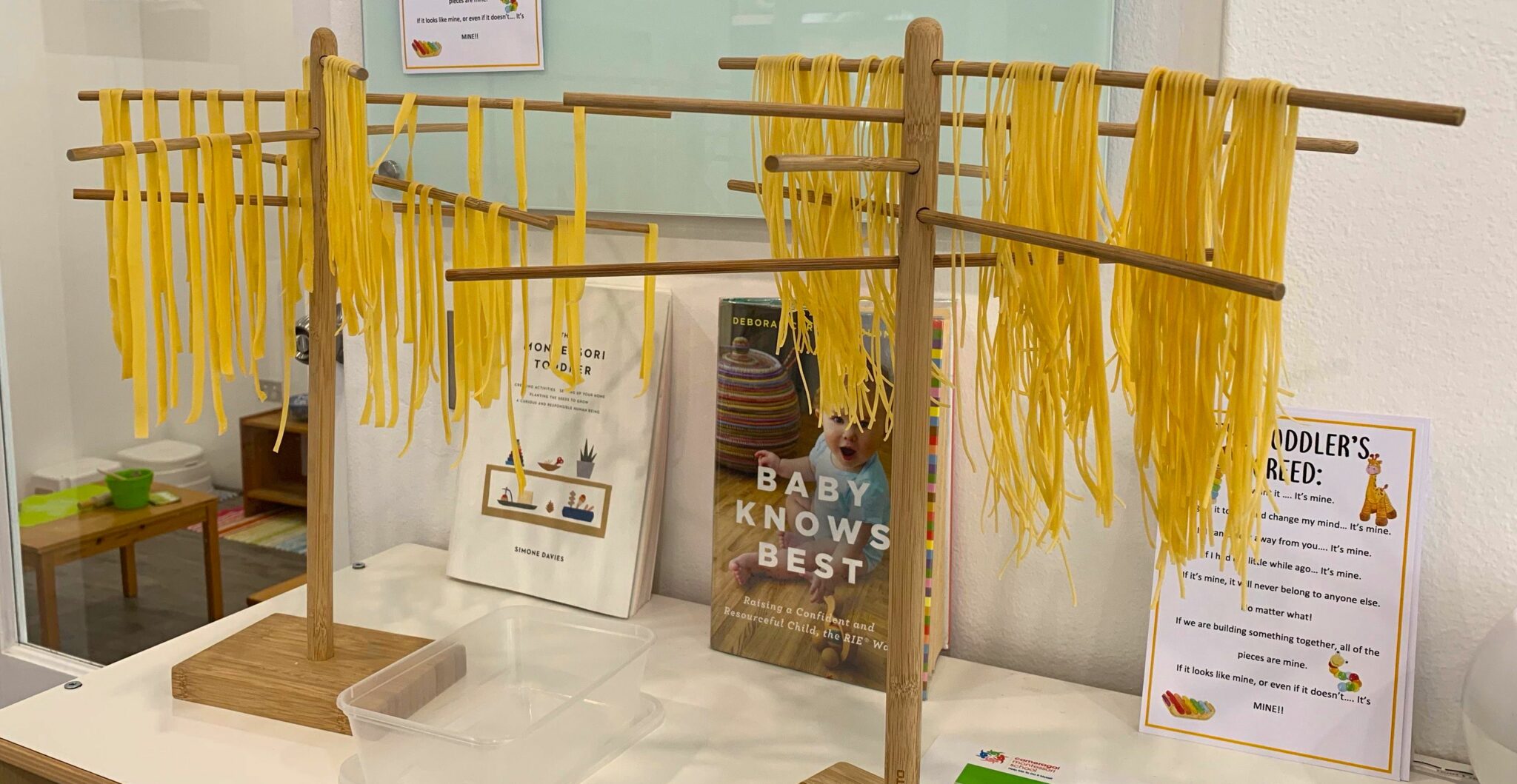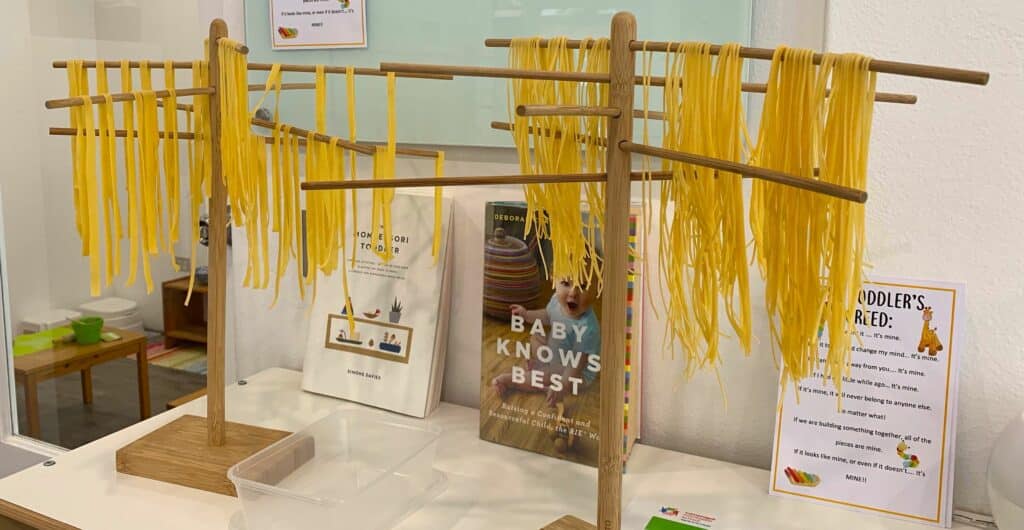 Important information for parents.
Parental Attendance.
Parents attend sessions with their child. This helps your child feel safe, as well as allows you to observe your child's development and replicate the activities at home.
Our school is welcoming of all backgrounds.
Parents of our school community come from a diverse range of cultural, social and religious (or non-religious) backgrounds. But they all share a belief in the importance of the Montessori approach, and a desire to give their children the best possible start in life.
Location:
Cameragal Montessori School, 1 James Place just off Ridge Street, North Sydney. Ph: (02) 9954 0344
About the Montessori approach.
The teaching approach at Cameragal Montessori is based on intense scientific observation of thousands of children over 50 years, practiced in over 22,000 schools worldwide and thoughtfully updated to reflect the needs of Australian children and NSW education standards today. Our approach is built on three cornerstones that unleash your child's full potential:
Purposeful Observation
Our accredited Montessori teachers observe and assess to optimise activities; facilitating continual improvement that leads to greater confidence, capabilities and potential
Practical Exploration
Exploring the practical, everyday aspects of life equips children with the full range of intellectual, social and emotional skills, habits and values needed for a successful, happy life
Freedom Within Limits
Encouraging children to engage in activities that interest them optimises their innate curiosity and desire to learn, accelerates their growth and further develops a lifelong love for learning
When children are free to pursue their innate desire to learn — using practical, purposeful activities that continually push the limits of their capabilities — they not only develop towards their full potential, but their achievements also help them become confident, self-assured individuals, prepared for a life of learning, success, and happiness.
Frequently Asked Questions
Is 0-3 too young for formal education?
Even though we develop activities to meet the educational needs of your child, we don't consider our Playgroup program as formal education. We believe every family is special and families need solutions that will work for them. We also believe families need community. We keep our programme informal and conversational to explore practical steps to set even more positive learning habits and foundations for their future. You and your child will also be having fun and making friends!
Is the Playroom all learning and no play?
Even though our activities are intentional, they are selected by your child, so they are never forced to do anything they don't want in an overly structured environment. We guarantee that each day is stimulating, educational and fun.
How much does it cost?
Peaceful Babies – $398 for one class per week (8-week term). Each class is 1.5 hours long.
Infant Program – $398 for one class per week (8-week term). Each class is 1.5 hours long.
Toddler Program – $498 for one class per week (8-week term). Each class is 2 hours long.
Who will be teaching my child?
All classes are taught by a qualified Montessori teacher with the support of trained assistants when required.
What do I do when my child is in the Playroom?
Your role is to simply be present and observe your child, so you can see Montessori principles in action and replicate them at home to reinforce and further accelerate your child's learning.
Can I send my child outside of term dates?
Unfortunately, no. Our school operates according to the term dates only and is not currently available during school holidays.
Can another Care Giver attend with my child?
Yes – we welcome all trusted care givers (such as grandparents) as nominated by yourself.
We would love to show you around.
Book Your 0-3 Spot Now !
TryBooking Events : Book Now!
You are invited to view our teaching methods in action and get a feel for our teachers' passion and impact at a campus tour.